2014
Our first official gig of 2014 was towards the end of March and what a beauty it was! Even the looming rain clouds couldn't threaten the most spectacular dinner Wayside Chapel had ever hosted! Three-hundred people dined on the street and under the stars to celebrate their 50th anniversary and raised well over $700,000 to help them to continue doing the wonderful work they do for hopefully another 50 at least. Wayside Chapel ambassadors Claudia Karvan and Indira Naidoo, actor Guy Pearce, Dick Smith, Adam Goodes, MC James Valentine, Marcia Hines and their patron, the Governor of NSW, Professor Marie Bashir all turned out to make sure the night was a huge success. The Bees played no small part by getting proceedings underway with Oh! Happy Day & Bubbles whilst the diners enjoyed champagne and canapés. In the words of our MD, Steve Clarke "What an incredible result - well done to all of you! We're proud to be associated with The Wayside and couldn't be more pleased to have been able to contribute to the success of the evening."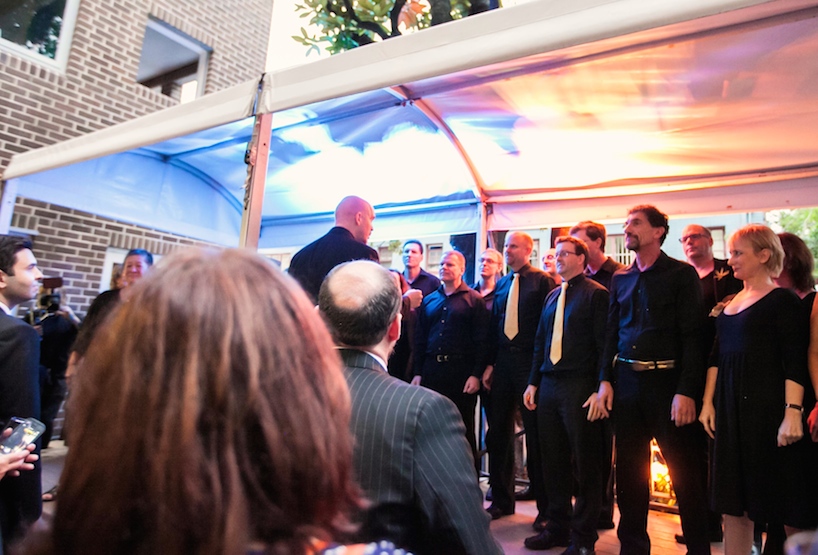 Oh! Happy Day gets the night's festivities off to a flying start
Just a few weeks later The Bees were back at Wayside to sing at their 50th Birthday Street Party. We sang a number of songs during the 10am Morning Service including Jesus Gonna Be Here & How I Got Over. The event made the major news channels - including this piece on the SBS News.

A montage of images from the Wayside's 50th birthday street bash
On Sunday 18th May, we performed to a packed house at Wesley Church in Castle Hill for a special fundraising concert for the children's charity Bear Cottage. The Bees deviated from our usual 'black with a splash of gold' and instead wore a touch of fuschia (the Bear Cottage colour). A few of the highlight songs from a great performance included Bern on Jesus Gonna Be Here, Richard's rendition of Never Let Go My Hand & JJ's beautiful version of I Want to be Ready. A very enthusiastic audience was quick to pass on praise during the afternoon tea which followed.

The Bees performing at Wesley Church, Castle Hill
This year's Winter SOULstice concert on Sunday 21 June raised money for Lifeline, who offer crisis support and suicide prevention services. The concert was held at St John's in Darlinghurst and featured a few 'firsts' with new additions to our repetoire including He's My Rock and Bura Fera. Lorraine performed her first solo for the Bees, singing Take Me to the River. The concert also welcomed Joanna and Nick to their first performances with the Honeybees.

Steve leads the Bees in He's My Rock
On Friday 1 August, the Honeybees performed at a special fundraiser for Open Heart International at the Camelot Lounge in Marrickville. The funds raised go to helping children living in developing countries to receive the specialist healthcare that they desperately need. A number of the Bees also stayed for dinner and to enjoy a night of cabaret entertainment. Our short set that welcomed guests included Jesus Gonna be Here, Angels & Never Let Go my Hand.

The Bees with a splash of red/pink rather than the usual gold
In October a swarm of Bees headed south to Kangaroo Valley to participate in the Kangaroo Valley Folk Festival. The Bees first performed at St. Joseph's Church where we started in flash mob style performing Uya Le La Uya. During our 40 minute set, we also performed some of our favourites including Jesus Gonna Be Here, I Believe and Never Let Go My Hand as well as a new song Ezekiel. The afternoon session had us performing at the Pavilion to a full house where we successfully competed against a brass band playing right outside!

The Honeybees perform to a full house at the Pavilion during the Kangaroo Valley Folk Festival
Our Summer Concert was earlier than usual on Saturday 8 November, once again at Sydney Boys High School. Our chosen charity to receive proceeds from the concert was the
Médecins Sans Frontières
- Ebola Appeal. Our 16-song set included old favourites and some new numbers, including the Aboriginal gospel song Bura Fera (click for youtube clip), He's My Rock (featuring Roland) and Paul Kelly's Meet Me in the Middle of the Air (featuring Francine, Will & Ama.) Amongst the audience of 175 people was our special guest
Samretta Carr Caldwell who helped to set up the UNSW Alliance Against Ebola. Samretta gave a wonderful talk on how this disease has affected her, those close to her and the region as a whole. Her speech no doubt helped us to raise over $5,700 through ticket sales and donations on the night.
The Honeybees in full flight at their Summer Concert